Low in calories while remaining full of flavor, these pumpkin bars make a great dessert — perfect for potlucks (much easier to share with large groups than pies) and they're relatively guilt-free. They're high in vitamin A — and trust me you cannot even taste the shredded carrot — and a bar only contains 70 calories and less than two grams of fat. With nutritional stats like that, it's OK to go back for seconds.
Ingredients
2 cups whole wheat pastry flour
2 teaspoons pumpkin pie spice
2 teaspoons baking powder
1 teaspoon baking soda
1 cup sugar
1/2 cup brown sugar
1/3 cup Earth Balance (or other butter substitute)
2 eggs
2 large egg whites
1 can (15 oz.) pumpkin pie filling
2/3 cup finely shredded carrot
Cream cheese topping:
4 ounces light cream cheese, softened
1/4 cup sugar
1 tablespoon skim milk
Directions
Pre-heat oven to 350° F. Spray a 15 x 10 jellyroll pan with cooking spray.
In small bowl, whisk flour, pumpkin spice, baking powder, and baking soda.
In larger bowl, use electric mixer to beat sugar, Earth Balance, and brown sugar until crumbly. Add eggs, egg whites, pumpkin pie filling, and carrots. Beat until well blended.
Add flour mixture and mix until well blended. Spread onto greased pan.
To prepare cream cheese topping: mix together cream cheese, sugar, and milk until thoroughly blended.
Drop teaspoon-fulls of topping over pumpkin batter and swirl and cut mixture into batter with a butter knife.
Bake for 20 to 30 minutes or until toothpick inserted in the center comes out clean.
Cool in pan completely on wire rack before cutting into squares.
Makes 48 squares.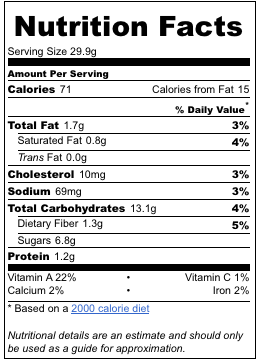 via Fitsugar